Question 1 of 10
When was the world's first website created?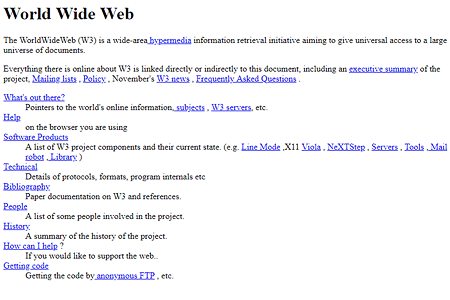 August 6th, 1991 – The World Wide Web (WWW) creator, Tim Berners-Lee launched the world's first website at http://info.cern.ch/hypertext/WWW/TheProject.html. Unfortunately, the original website has not been preserved until today and the link shows only its 1992 copy.
In which year did the first web banner appear on the Internet?

October 27th, 1994 – The AT&T Telecommunications Company placed the first web banner in Internet history on the HotWired magazine website. The first web banner in the world was 476x56 px.
In which year was the first version of JavaScript 1.0 released?
December 4th, 1995 – Brendan Eich of Netscape designed the first version of an object-oriented JavaScript that became widely used to create interactive websites.
From which year is this Apple website?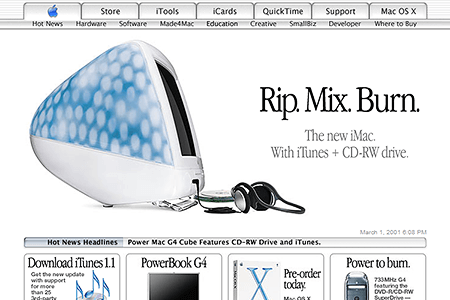 What does the abbreviation CSS mean in web design?
The first proposal of "Cascading HTML Style Sheets" was published in October 1994 by a Norwegian programmer Håkon Wium Lie, who was working at CERN under Tim Berners-Lee at the time.
Cascading Share Styles
Cascading Support Sheeps
Cascading Style Source
Cascading Style Sheets
In which year did W3C.org issue an official HTML 4.0 recommendation?
December 18th, 1997 – W3C published official recommendations for the HTML 4.0 specification. The HTML 4.0 specification was divided into three variants: Strict, Transitional, and Frameset.
In which year did Jeffrey Zeldman first publish the book Designing with Web Standards?
May 14th, 2003 – Web designer and founder of A List Apart magazine, Jeffrey Zeldman, published a book entitled Designing with Web Standards. In his book, Zeldman explores the benefits of implementing web standards.
From which year is this Google website?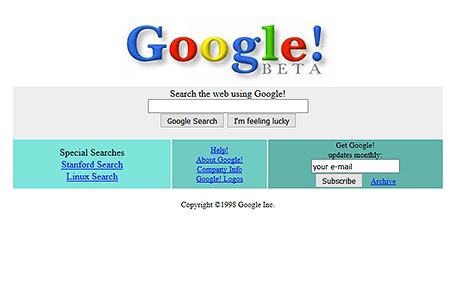 In which year was Smashing Magazine, a portal for web designers and developers, created?
August, 2006 – Sven Lennartz and Vitaly Friedman created a portal for web designers and developers called Smashing Magazine. The portal is currently the most visited web site for web design and related fields.
In which year was the first version of the Sketch 1.0 graphics editor released?
September 7th, 2010 – The Dutch company Bohemian Coding released the vector graphics editor Sketch 1.0. Sketch is designed for MacOS only and has gained a lot of popularity among the web design community over the recent years.
In which year was Yahoo portal launched?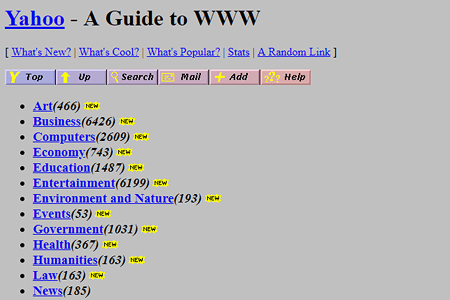 January, 1994 – Jerry Yang and David Filo, two Ph.D. students from Stanford University, created a list of websites entitled "Jerry and David's Guide to the World Wide Web." In March 1994, the portal was renamed Yahoo!
From which year is this Facebook website?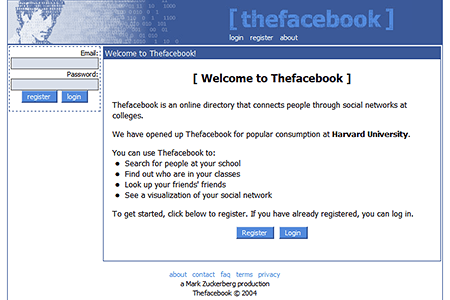 Who is the author of Don't Make Me Think?
October 13th, 2000 – Steve Krug, a UX designer and information architect, published Don't Make Me Think. The book deals with web usability and the interdisciplinary field of Human-Computer Interaction (HCI).
Jeffrey Zeldman
Jakob Nielsen
Tim Berners-Lee
Steve Krug
In which year was the Backstreet Boys website created?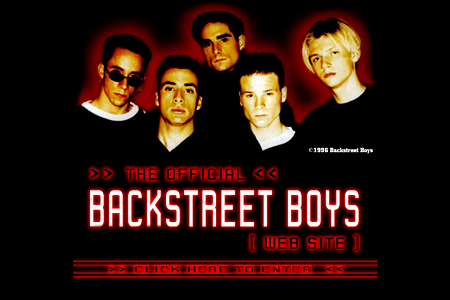 What does the abbreviation BEM mean in web design?
March, 2005 – A team of developers of the Russian search engine Yandex began working on a new methodology that allowed for unambiguous naming of classes in CSS. In 2009, the new CSS naming convention was called BEM, standing for Block, Element, Modifier.
Block, Element, Modifier
Block, Element, Modal
Black, Element, Modifier
Blue, Element, Mode
In which year were CSS Awards for creative and innovative web design founded?
September 23rd, 2009 – A prestigious gallery of highly creative and innovative CSS-based websites in terms of design was launched under the name CSS Awards. On February 24, 2011, the portal was named Awwwards.
In which year was the first version of the Bootstrap CSS framework created?
August 19th, 2011 – Web developers Mark Otto and Jacob Thorton of Twitter began creating the CSS framework Bootstrap in mid-2011. In August 2011, Bootstrap 1 was released as an open source tool.
In which year did Ethan Marcotte publish his article "Responsive Web Design" defining the basics of responsive web design?
May 25th, 2010 – Web designer Ethan Marcotte published an article entitled "Responsive Web Design" in the online magazine A List Apart. The author describes a new way of styling HTML documents which allows for an optimization of website content display with regard to resolution or display size.
In which version of HTML did the <canvas> element first appear?
The HTML5 version has brought an improved browser multimedia playback support, new semantic tags that better define page structure, offline application support, and the <canvas> tag that can interpret vector graphics with an option to insert images.
HTML 2.0
HTML 3.2
HTML5
XHTML
Which company developed the design style known as Material Design?
June 25th, 2014 – Google introduced a new graphic style called Material Design at the Google I/O conference. Since 2015, Google has redesigned most of its applications and services using the consistent visual style of Material Design.
Apple
Facebook
Google
Yahoo
Check Answer